Intellectual Property Department
What the team is known for Dedicated IP boutique offering patent, trade mark and copyright expertise. Client portfolio includes a host of household names from the entertainment industry, including those with activity in music and film, in addition to important global technology corporates and industrial groups. Acts on enforcements and infringement proceedings. Offers particular experience in mandates relating to piracy.
Strengths Clients value the team's "confidence, commitment and involvement."
With expertise in trade marks, patents and unfair competition, Raúl Bercovitz is a skilled litigator. He offers further experience in the negotiation of licensing agreements and technology transfers.
Department head Santiago Mediano has considerable experience in trade mark and copyright infringement proceedings and represents well-known international and domestic companies in the media and entertainment, retail and technology industries. Interviewees recognise him as "a good strategist" and add: "He is very down-to-earth and when he has to be creative to find solutions, he does it."
TMT & Media Department
What the team is known for Multi-talented team specialising in media and IT. Significant media expertise in financing, production and postproduction agreements as well as distribution, film tax incentives and subsidies. Well-versed in privacy and data protection, advertising and online marketing, e-commerce and technology agreements. Clients are active in the security, film production, festival and clothing industries.
Strengths Clients value the team's "extensive knowledge and good negotiating capacity."
Interviewees know the lawyers to be "fast and always very diligent."
Santiago Ilundáin Fantova advises major clients in the film and entertainment industry on contractual disputes, financing agreements and production rights. Sources commend him for being "very hard-working."

Intellectual Property: Copyright
Tier 2
Santiago Mediano Abogados focuses on copyright litigation in the media and entertainment sectors, with the capacity to handle cross-border matters.
Firm founder Santiago Mediano leads the team, which also includes entertainment and sports specialist Santiago Ilundáin and Raúl Bercovitz, formerly at Bird & Bird, who joined the firm in January 2020; as well as Elena Santías, an industrial property expert.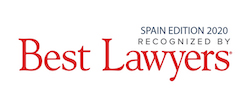 Eight distinguished partners
Each year, Best Lawyers acknowledges the work of lawyers by geographical area and legal specialisation, through a peer assessment.
Intellectual Property
Santiago Mediano
Francisco Arroyo
Raúl Bercovitz
Chris Cooke
Juan López
Commercial & Corporate
Javier Berrocal
Santiago Ilundáin
An established presence in Spain and Portugal, Santiago Mediano Abogados make complex cross-border work look simple. The media and entertainment sector giant has a clear firm identity and its client roster of top industry names echoes this. "This team does the job rigorously and with the most professional attitude," says one happy patron. Talismanic leader Silvia Hernández is "a tough negotiator who demonstrates superior expertise, comprehension and an unstinting dedication to getting the job done"..
Copyright & related rights
Tier 3
Distinguished Partners
Trade Mark Star 
Intellectual Property: Copyrights
Legal Notice

Privacy and cookies policy